Online Divorce
in New Jersey
Simple process to get divorce papers online
Affordable pricing plans with no hidden fees
Unlimited changes to forms and free revisions
Divorce papers ready to download in two business days
Step-by-step filing instructions
Award-winning tech support for all customers
Divorce in New Jersey is quick and easy
Divorce Online in New Jersey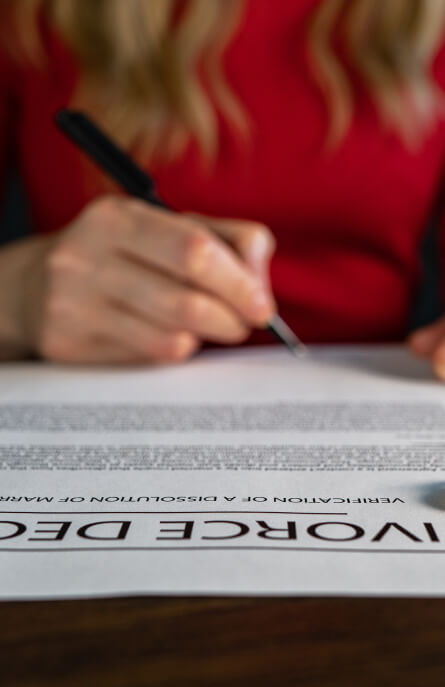 Those spouses looking for a quick and legit way to handle their filing process for an affordable price should consider New Jersey Online Divorce.
Online divorce can become an irreplaceable alternative to the costly services of a law firm. Why? See for yourself!
There is no need to leave your house to deal with your divorce papers — all you need is a laptop or mobile device and internet access.
Choose the time and place that suits you best to deal with your documents. You don't have to cancel your plans to adhere to a lawyer's schedule.
Take your time to complete and edit your divorce forms, no hassle or hurry.
It takes only 2 business days to get your completed divorce paperwork ready to be filed.
You won't have to wrap your head around the filing process as we provide you with simple, easy-to-follow written filing instructions to help you avoid mistakes when filing with the local court clerk.
Our price doesn't bite! You can think of us as a low-cost option to the unbearable cost of an attorney.
How to qualify for an online divorce?
To qualify for an online divorce, spouses should resolve all their divorce-related issues and outline them in a Marital Settlement Agreement. This way, they will proceed with an uncontested divorce and be eligible for our online divorce service.
The Marital Settlement Agreement should cover the following issues: child custody, child support, visitation, spousal support (alimony), marital property division, etc.
Compare Your Options for Filing for Divorce in New Jersey
Divorce With a Lawyer
While divorce proceedings become less challenging with a lawyer's assistance, several drawbacks still exist.
Dependent on a lawyer's schedule
Unbearable costs — prepare to pay $250-500/hour
Litigation is a time-consuming and expensive process to go through
It's common for lawyers to complicate the cases
Hiring a lawyer may create unnecessary tension among the spouses
New Jersey Divorce Online
Fast, cheap, and easy way to prepare divorce forms.
Paperwork handled online at any place and at any time
No hidden fees; the price is fixed
Fast paperwork preparation that won't take more than 2 business days
User-friendly platform for those seeking an amicable divorce
Available customer support to assist you at any time
Easy-to-follow filing instructions
DIY divorce
Such a divorce is the cheapest option, yet the spouses have to circumvent the pitfalls.
Preliminary research is needed to comprehend all the laws and regulations
The high risk of mistakes in the divorce forms
Time-consuming paperwork preparation due to its complexity
Possible unfair outcome
Possible extra expenses
May result in complications that may lead to a contested divorce
Here's how our process works.
Looks complicated?
Get your hassle-free divorce
Provide your case details
2
File for Divorce Online in New Jersey Without a Lawyer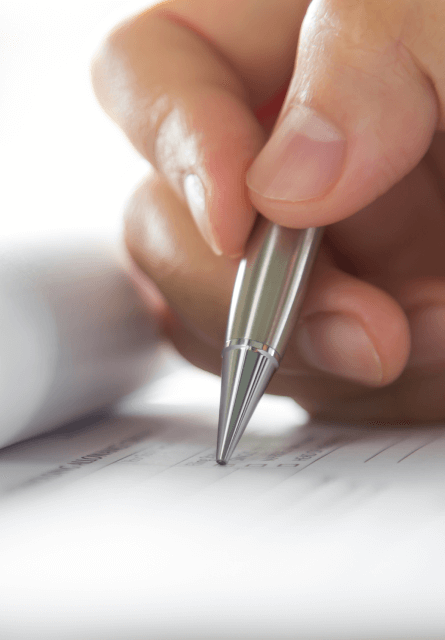 Handling a divorce without a lawyer, the spouses will have to deal with all the stages of their divorce themselves. This could be a relatively challenging but affordable process, as they may save money on costly legal assistance. For those spouses seeking a simple and fast divorce, online divorce can simplify their divorce paperwork preparation and filing process.
New Jersey Online Divorce allows the spouses to handle their online divorce in just 2 business days. Those couples eligible for an uncontested divorce should follow these simple steps:
Fill out the simple questionnaire about their marriage and divorce.
Select and complete the correct divorce forms with New Jersey Online Divorce assistance.
Get the completed printable divorce forms.
Use a simple filing guide to file the divorce papers.
When filing the divorce paperwork, the spouses will have to pay the filing fee, which is about $300 in New Jersey.
The county clerk stamps and dates the documents when the papers are filed and the court fees paid. That is how the divorce process officially starts.
The original documents stay with the clerk, and the copies are returned to the applicant to deliver one set to the defendant.
Do-It-Yourself Divorce in New Jersey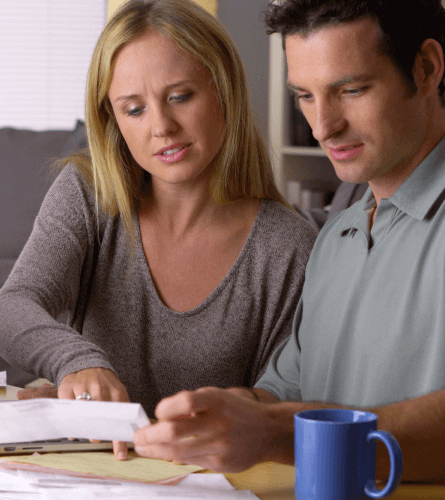 A DIY divorce is a perfect option for spouses who manage to agree on all their divorce-related issues amicably and outside the court. Such an option is considered much more affordable as it doesn't require any costly legal assistance.
This option doesn't necessarily mean that the divorce is handled exclusively by the spouses themselves. The couple may also decide to use low-cost services such as divorce mediation, counseling, and divorce online to ensure the correct process.
To save time and money while preparing and filing divorce papers and focus on the rest of the divorce process, the spouses can handle their paperwork with New Jersey Online Divorce. This platform will assist them on their way to a simple filing process.
Do-it-yourself divorce requires the same steps as the one that includes legal help:
1. Complete the necessary divorce forms
The basic list of New Jersey divorce forms includes:
Complaint For Divorce;
New Jersey Marital Settlement Agreement; and
Summons (NJ-808D).
Other documents that may be required vary depending on the attendant circumstances of the particular divorce case.
2. File the papers with the court
To initiate the divorce process, the plaintiff must file a Complaint for Divorce with the Family Division court clerk's office in New Jersey, submit all the required forms, and pay the filing fees. This should be done in the county where either of the spouses resides.
3. Serve the divorce papers to the defendant
The divorce papers must be served to the defendant within 30 days of filing. Typically, a sheriff or a process server can hand-deliver the summons, divorce complaint, and other divorce documents to the defendant at home or work.
Alternatively, the other spouse can agree to accept service personally or through a lawyer. In such a case, it's important to get a signed Acknowledgement of Service as proof of service for the court.
4. Do the waiting if necessary
As there is no across-the-board waiting period in New Jersey, the waiting period depends on the grounds the spouses chose for their divorce.
5. After the Divorce Decree
and other required forms are filed with the court, the divorce can be finalized without a court hearing. However, if there are any mistakes in the paperwork or any unresolved matters, the litigation may take some more time to work itself out.
All Required New Jersey State Forms.
New Jersey-Specific Court Filing Instructions.
Unlimited Revisions for as long as your account is active.
Getting a Divorce With Children in New Jersey
When the parents cannot agree on child custody issues themselves, the court steps in to resolve the issues of child custody, support, and visitation. There are two types of child custody - legal and physical, which can be awarded as joint custody or sole custody.
New Jersey law gives preference to joint custody, as it believes that parents sharing custody as equally as possible can ensure that the child's best interests are regarded. Thus, the judge has to consider the following factors carefully:
the wishes or preferences of the child as to custody (depends on the child's age);
the parent's wishes and preferences;
the child's needs and parents' ability to provide them;
the parents' willingness to accept custody and ability to cooperate with the other parent in making decisions on matters concerning the child;
the child's relationship with parents, siblings, and other family members;
the parents' employment and geographical proximity to home;
the nature of parent-child interaction;
the extent and quality of the time spent by the parents with the child before or following the divorce;
any history of domestic violence, child abuse, negligence, or substance abuse; and
the mental or physical health of the parties involved in the proceedings.
In addition, New Jersey courts require the parents to complete a mandatory parenting class before they can be granted a divorce. Both parents must fulfill this requirement.
Residency Requirements in NJ
Filing for a divorce in New Jersey, the spouses must fulfill the state residency requirements. According to NJ Family Law, either spouse must have resided in the state for no less than one year before filing. However, for those spouses choosing adultery as the ground for their divorce, the requirement changes to "any amount of time, which can be less than a year."
If these residency requirements are ignored, the case will be dismissed as the court won't have any jurisdiction and won't be able to make any judgment.
How Long Does It Take to Get a Divorce in New Jersey?
The length of a divorce case depends on many contributing factors such as services used along the process, divorce paperwork preparation time, duration of the negotiation process between spouses, etc.
As for New Jersey, there is no across-the-board waiting period in the state. However, there are some requirements for specific grounds. For example, in the case of a no-fault divorce based on irreconcilable differences, the spouses won't have a waiting period if they:
have been married for less than six months; or
have already been living apart for 18 months.
Otherwise, in the case of a fault-based divorce petition, the spouses may need a wait a certain amount of time after filing using those grounds. The spouses should also remember that proving the other party's misconduct is time-consuming.
As there is no stated waiting period, an uncontested divorce may take 6 to 8 weeks to be finalized after the papers are filed. However, uncontested divorce generally requires 3 to 4 months to work out the settlement agreement and get court approval.
On the other hand, a contested divorce may take from 6 months to a year for issues such as child custody, property division, alimony, child support, etc., to be resolved.
Customer Testimonials
Truly the easiest and quickest way to get divorce forms completed. My to-be-ex and I are fortunate enough to still be friendly, so it was a breeze to get through each question.
When I filed for my divorce, NJ Online Divorce called me in just about an hour after I filed my application. They gave me a friendly reminder that I would have to wait 2 days for my forms to be ready for download. They were even able to answer my questions about the filing process at my local court.
I anticipated stress and hours of time filling out paperwork and having to follow up with the county court. So far, this company has been remarkable not only in providing forms but clear one-on-one instructions on how to proceed. Really remarkable, I put this off for over ten years and am very pleased to be moving forward.
Customer service was fantastic they were extremely helpful and caring to your needs and wanting you to have a happy ending
New Jersey Online Divorce .com made it easy for me to get a divorce from my spouse. It was a super simple step by step process with easy to understand explanation on each question that needed to be answered. I totally recommend this to anyone who is looking to get a divorce from their spouse with an easy to use platform!
The system provided me a sense of ease with the process. I couldn't believe how easy it was for me to start the process of my next chapter in life. Thanks
Of course, divorce is a difficult decision to make. This service has been extremely helpful in cutting through some of the pain of the process by making things simple and easy.
This site made an extremely difficult decision easy to process. It took some of the pain of doing the paperwork away.
I was nervous to start an online divorce, but after speaking with an agent and explaining everything to me, I felt confident that I made to right choice.
Frequently Asked Questions
How to file for an uncontested divorce in New Jersey?
Spouses willing to cooperate and settle their divorce-related issues amicably can apply for an uncontested divorce. To do that, the spouses will have to prepare and file all the necessary divorce papers along with the divorce application and pay the filing fee, which is about $300.
How much does a divorce cost in New Jersey?
About $5,000, but the overall divorce cost may vary significantly depending on the attendant circumstances of a particular divorce case. Thus, uncontested divorces with no legal assistance required and no minor children involved may be relatively affordable. The spouses can also use an online divorce website to handle their divorce papers for as little as $139 instead of using an expensive attorney.
How to get a free divorce in New Jersey?
To get a free divorce, spouses should perform DIY divorce and then ask a judge to waive the filing fees.
How to get divorce papers in New Jersey?
Spouses may find all the necessary blank divorce forms at the Superior Court of New Jersey Records Center.
However, those couples that need assistance with their paperwork can use New Jersey Online Divorce. Our service provides the spouses with all the required forms customized according to their particular case.
Where do I go to file for an uncontested divorce in New Jersey?
The divorce forms should be filed with the Family Division court clerk's office in New Jersey. It should be done in the county where either spouse resided when the cause of action (ground for divorce) arose.
What are the grounds for divorce in New Jersey?
Fault-based grounds for divorce in New Jersey include:
Adultery,
Desertion,
Extreme Cruelty,
Separation,
Voluntary Addiction to Narcotic Drugs,
Habitual Drunkenness,
Institutionalization for Mental Illness,
Imprisonment, and
Deviant Sexual Conduct.
However, the spouses can choose no-fault grounds such as irreconcilable differences, irretrievable breakdown, or separation for 18 months.
How is property divided in a New Jersey Divorce?
In the state of New Jersey, the concept of "equitable distribution" is used to divide property in a divorce. This means that all the marital property acquired during the marriage should be divided equally unless the court finds the equal division to be unjust.